NEAR EASTERN COLONIES AND CULTURAL INFLUENCES FROM MOROCCO TO ALGERIA BEFORE THE CARTHAGINIAN EXPANSION: A SURVEY OF THE ARCHAEOLOGICAL EVIDENCE
Palavras-chave:
Africa, Atlantic, Phoenician, Punic, Morocco, Algeria, Lixus, Mogador, Ceuta.
Resumo
Our core knowledge concerning the Phoenician diaspora in northwestern Africa centers around the archaeological and historical evidence of the
sites of Lixus and Mogador in Morocco, as well as the necropoleis of Tangier and the site of Rachgoun in Algeria. A less clear picture has been formed for the subsequent, so-called Punic phase. Yet ongoing surveys of large areas and archaeological investigations of sites are enhancing our knowledge of the Phoenician and Punic periods in northwestern Africa, weaving a complex picture of various degrees and types of involvement in the local milieu by people of a Near Eastern heritage. Here, the earliest Phoenician presence and developments down to the Punic period (associated with the Carthaginian expansion)
are presented, taking into account the local context as well as the settlement and mercantile activities of Phoenicians in the wider Mediterranean and the Atlantic.


Downloads
Não há dados estatísticos.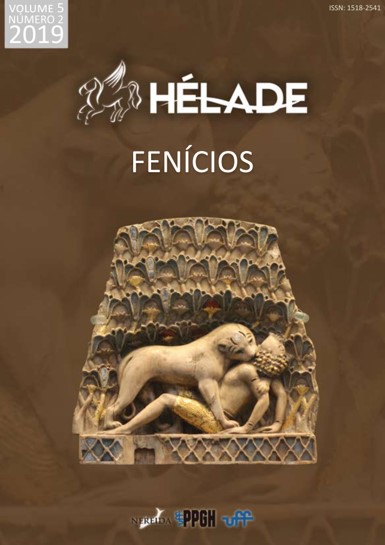 Downloads
Seção
Dossiê Temático - Fenícios
Licença
Ao encaminhar textos à Revista Hélade, o autor estará cedendo integralmente seus direitos patrimoniais da obra à  publicação, permanecendo detentor de seus direitos morais (autoria e identificação na obra), conforme estabelece a legislação especí­fica.

O trabalho publicado é considerado colaboração e, portanto, o autor não receberá qualquer remuneração para tal, bem como nada lhe será cobrado em troca para a publicação.

Os textos são de responsabilidade de seus autores. Citações e transcrições são permitidas mediante menção às fontes.
O uso dos textos publicados em nossa revista poderão ser distribuídos por outros meios, desde de que atribuídos devidamente à autoria e publicação.